RESIDENTIAL MENTAL HEALTH TREATMENT FOR TEENS & YOUNG ADULTS
4 Intensive individual therapy sessions PER WEEK with weekly group and family therapy
Absolute privacy and confidentiality
Residential Treatment Programs Accredited by The Joint Commission
Specialists in treating teens 12-17 and young adults 18-26
Comprehensive pre-treatment diagnostic testing and evaluations for accurate diagnoses
30-90-day treatment program tailored to each client's unique needs
Low client-to-clinician ratio
Deeply committed medical, clinical, support, and executive staff
Coordination with home school for academic continuity and success
Beautiful and comfortable residences in Malibu and San Rafael
SERVICES
Anxiety Treatment
Anxiety disorders occur frequently in all age groups, but teenagers and young adults are especially prone to the condition. The National Institute of Health notes that as many as 1 in 3 teenagers from ages 13 to 18 will experience an anxiety disorder.
Depression Treatment
Adolescence is an emotional rollercoaster for many, during which teens and young adults experience dramatic shifts in their moods. While this turbulent period of development is known for difficult emotions, persistent or extreme negative feelings should not be accepted as "par for the course.
Personality Disorders
There are several different types of personality disorders, each of which include specific symptoms. Personalities are, by nature, highly variable. Despite the oxymoron, it's normal to be different – most people possess some unique quality or quirk, and there are many factors that contribute to developing a teen's personality into something individual.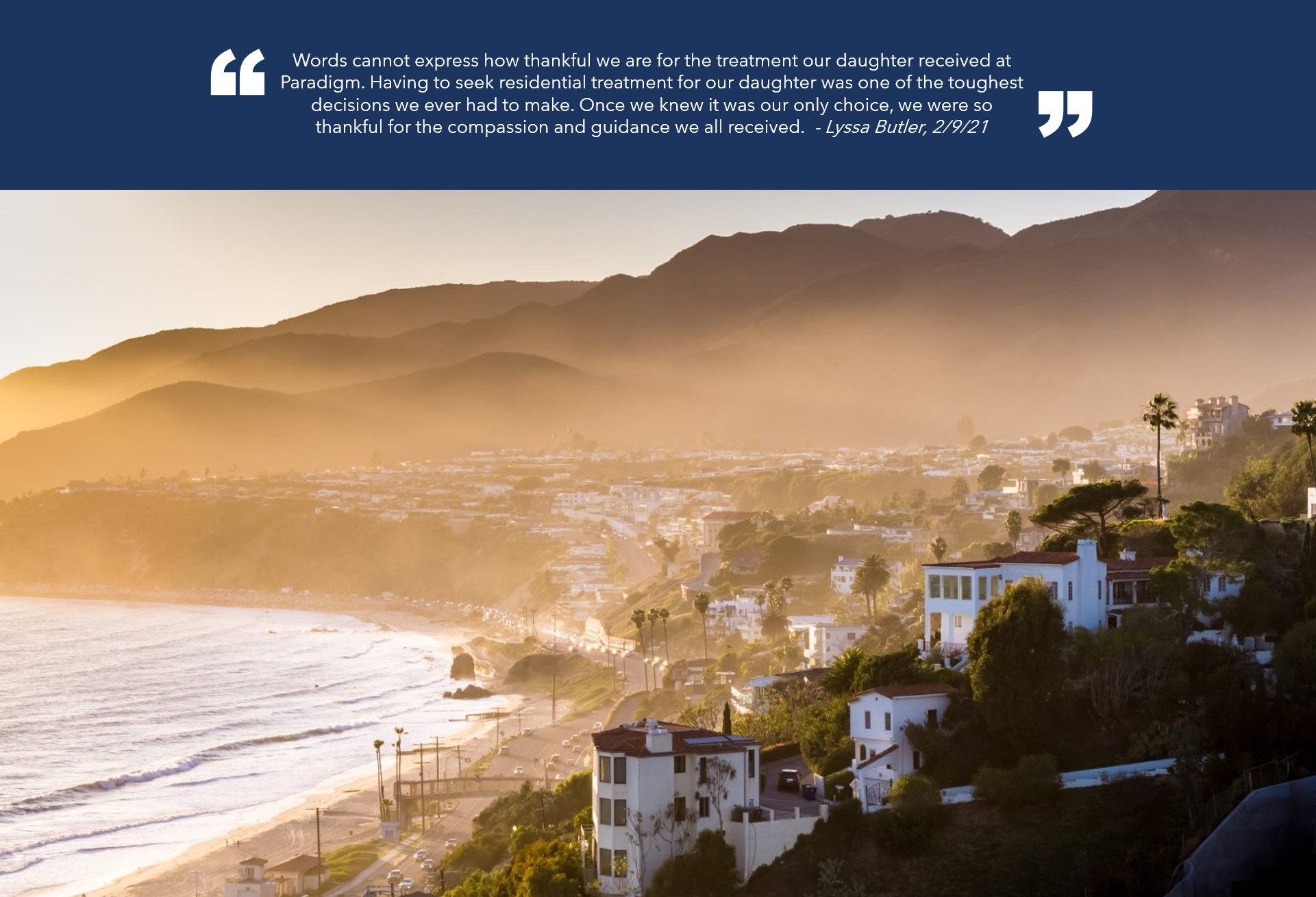 Trusted & Accredited Residential Depression Treatment for Teens and Young Adults in California.
Call (855) 921-4973.
Welcome. First, if you are a parent or guardian of a teen or young adult struggling mightily with depression, please know that you are in the right place – a truly safe place. Many of us here are parents and a number of us have faced similar circumstances with our kids. So, we know first hand how terrifying this can be and how helpless you might feel right now. Please know that you are not alone and we are genuinely here to help and advise you. Whether you choose Paradigm or not, we want you to get help.
With 7 locations throughout California, Paradigm Treatment has provided effective, exceptional care for depression, anxiety, bipolar I & II, trauma, personality and mood disorders, substance use, and more in beautiful, safe settings. Our 30-90-day residential treatment program is accredited by The Joint Commission, the worldwide symbol of healthcare quality. Clients receive a comprehensive battery of therapy including one-on-one therapy 4 days per week in addition to weekly family and group therapy, and psychiatric counseling. The work we do with young people empowers them to heal despite the toll that depression has taken. Call (855) 921-4973 now or complete our simple form. We'll answer every question about treatment, length of stay, insurance, and costs. The first step is to contact us today.
"We lost one of our sons to suicide, which nearly destroyed his twin brother and our family. The loving and knowledgeable staff took in our shattered son and began the process of helping him want to live again. [They] extended the same love, support and education to our family, and we are now finally moving forward with hope. There is no doubt that Paradigm saved our son and our family." – Bob Walden, Trust Pilot Review
COVID-19 NOTICE: Paradigm Treatment remains fully open and focused on the health, safety, and security of our clients and staff. We welcome any questions or concerns you might have. Call (855) 921-4973. Watch our COVID response video.
Call (855) 921-4973 Now to Speak Privately With an Admissions Counselor
What We Treat…
DEPRESSION and Major Depression
Anxiety Disorders
Loss and Grief
PTSD/Childhood Trauma
Bipolar I,II, and Cyclothemia
Mood Disorders
Obsessive Compulsive Disorder/OCD
Personality Disorders
Suicidal Thoughts
Co-Occurring Substance Use Disorders
Other Mental Health Issues and Disorders
10 Reasons to Choose Paradigm
4 individual therapy sessions per week, weekly group & family therapy
Treatment programs accredited by The Joint Commission
Experts in treating (separately) teens & young adults
30-90-day residential treatment stay
Comprehensive diagnostic testing & evaluations
Treatment tailored to the client's unique needs
Low client-to-clinician ratio
Deeply committed treatment staff
Coordination with home school academics
Beautiful 6-bed residences in Norcal & SoCal
Our Latest Outcomes Study Issued 03-20-21
A study presented in March of 2021, conducted by Kyle Van Duser, Ph.D. of the University of Hawaii and Pacific Analytics, found that among 195 Paradigm clients surveyed from intake through 1-year post-treatment, there were significant decreases in DEPRESSION, anxiety, and stress. Details for each of these measures are found below. These findings are at the alpha .01 level, meaning that they are considered 99% reliable.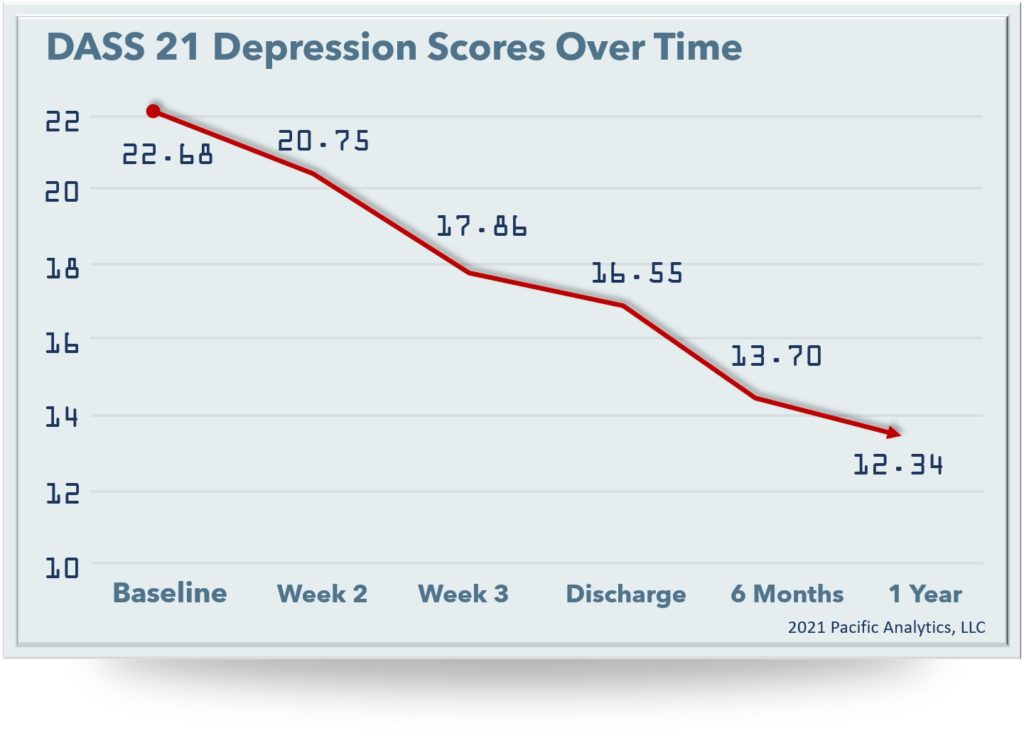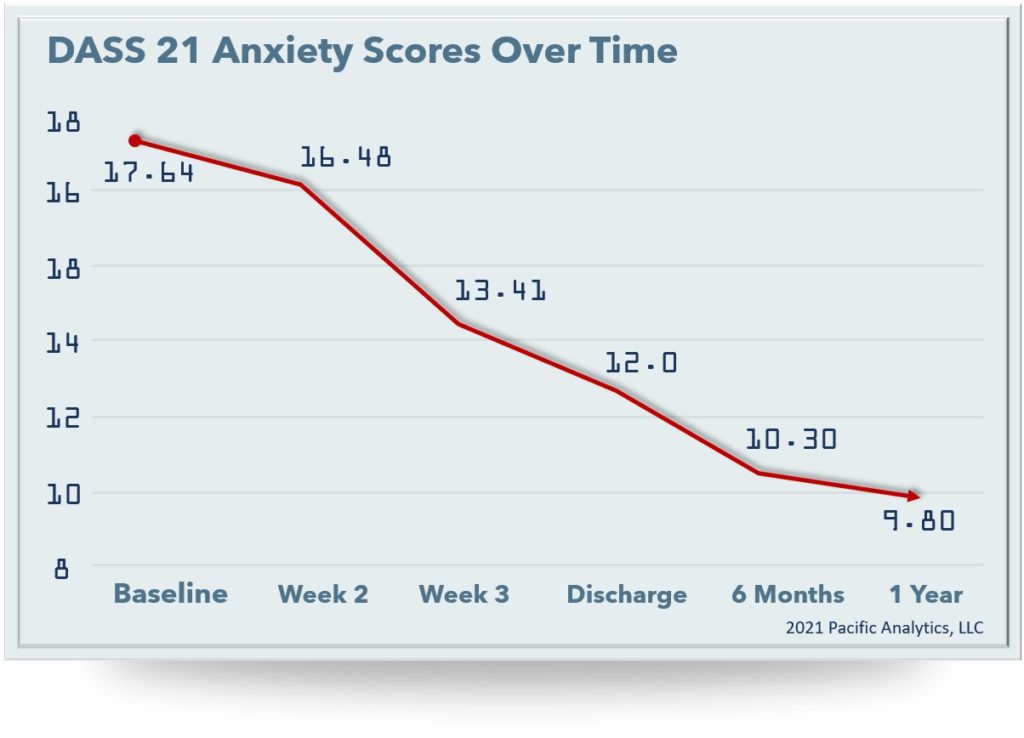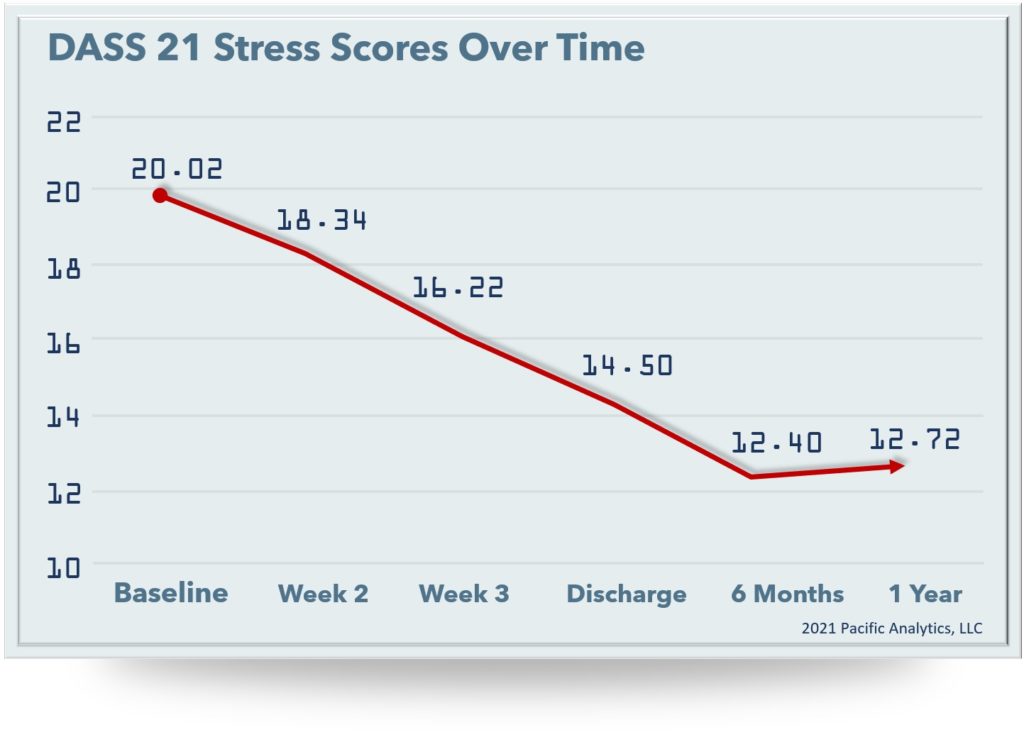 Take a Video Tour of Our Depression Treatment Facilities
Call (855) 921-4973 Now to speak privately with an admissions counselor.
We are here to help you any way we can.
Call to get all of your questions answered.
If you don't get help from us, please get help somewhere.
REAL CLIENT STORIES
After four hospitalizations, Alex and his family found "hope and healing" and meaningful help that has made a real and lasting difference in his life.
At 17, Audrey was "Hell bent on self-destruction". Upon arriving at Paradigm Treatment, she knew she was going to feel completely at home.
Upon returning to school from residential treatment at Paradigm, Emily's friends remarked on how her "whole energy" had changed for the better.
Paradigm Treatment accepts a wide variety of insurance plans
If you are interested in exploring the possibility of treatment for teen mental health, behavioral heath or addiction treatment at Paradigm Treatment, we can begin the insurance verification process immediately. We are happy to obtain your insurance policy information and seek verification on your behalf. We can generally provide you with verification results within 24 hours.
In-Network Contracts
Paradigm is able to work with most commercial insurance plans out-of-network, and is currently an in-network provider for Anthem Blue Cross and MHN, as well as Kaiser for our northern California locations.
CONTACT US
"*" indicates required fields