At Paradigm Treatment, we strive to maintain a thorough and special sensitivity to adolescents from all different backgrounds. For teens of divorced parents, we make efforts to provide special treatment and support that addresses the entire scope of their needs, including any conflicts or stresses that may be connected to, or have arisen from, this experience. This includes unique Paradigm support programs for teenagers as well as their parents.
Teenagers and Divorce: Addressing the Challenges
Though divorce is becoming an increasingly common experience that both adults and adolescents go through, this doesn't negate the considerable difficulty and stress that it brings about. Divorce can be an especially challenging experience for teenagers to go through. Since teens' brains are still forming, including their ability to reason and understand abstractly going through a major change such as divorce can be much harder for teenagers than adults.
Such a substantial shift in their lives can make it hard for younger children and teens to understand who they are and how they fit into their world. After all, their world suddenly becomes so different as a result of the divorce process. This contributes to feelings of isolation from the familiarity they once knew. Young people might feel abandoned by those closest to them and confused about their identities.
Mental Health Problems, Substance Use, and Poor School Performance
When it comes to teenagers and divorce, it's also common for mental health and/or substance abuse issues to surface during adolescence, both of which are strongly affected by stress. In this regard, if teens are already addressing mental health problems, the additional source of tension and displacement caused by a divorce can exacerbate their symptoms even more. Furthermore, adolescents might experience the tension of this divorce for a significant amount of time after it has occurred, as it continues to affect their everyday lives.
Meanwhile, going through a family separation can contribute to a teen having difficulty at school and with peers. Teens typically feel a strong urge to belong to their peer groups at school and understand what their role is in their social world. But this can become difficult if they no longer understand, or feel familiar with, their foundational home environment. This can make teens feel isolated and alone and lose a sense of belonging. They may become distant from their peers, friends, and family members.
All of these factors can contribute to teenagers feeling confusion, loneliness, anxiety, and anger. It's important to understand that parental separation may not be the reason for the onset of a teen's mental illness or substance abuse, but it might be a significant stressor that serves as a trigger toward an underlying or pre-existing issue.
The Effects of Divorce on Teens and Adolescents
Dealing with parents' separation can have a tremendous impact on a child's life. Children and young people who see one or both parents hurting or angry about their relationship can experience some major issues in their own relationships with friends, family members, and more.
Some of the main issues that commonly occur when it comes to teenagers and divorce might include the following:
Behavioral problems: A decline in proper behavior is a common reaction to divorce among adolescents. Children of separated parents may exhibit poor behavior. They may act out in various ways. Some children might get into fights with their peers. Some may argue more with their older or younger siblings. They might throw tantrums or show incredibly rebellious behavior often.
Emotional struggles: A teen of separated adults will likely have many emotions. Sometimes, teens in this situation might have mixed feelings. They may understand why their parents' marriage isn't working out, while still feeling abandoned or disappointed by the divorce. In other cases, a teen of separated adults might have mood swings, emotional outbursts, and more.
Weight changes: Teens of divorcees might exhibit changes in their eating habits. They may begin to lose or gain weight quickly. Children turning to food for comfort or foregoing meals due to tension are both possible effects of divorce.
Inconsistent behavior toward parents: Teenagers and children may treat one parental adult differently than the other. When a separation occurs, it typically means the child may live with one parent for a certain part of the month and the other parent during another part of the month. Teens and children of divorcees may show one parent more respect or positive emotions while being emotionally distant from the other parent. Or, the child may prefer spending time with one of the parental figures over the other parent.
Risk-taking: A teen of divorced adults may be at a higher risk for dangerous activities. They may get involved in risky behaviors, such as substance use, unprotected sex, and other such behavior that could put them in immediate danger.
Paradigm Support: We Can Help Address Your Family's Divorce-Related Struggles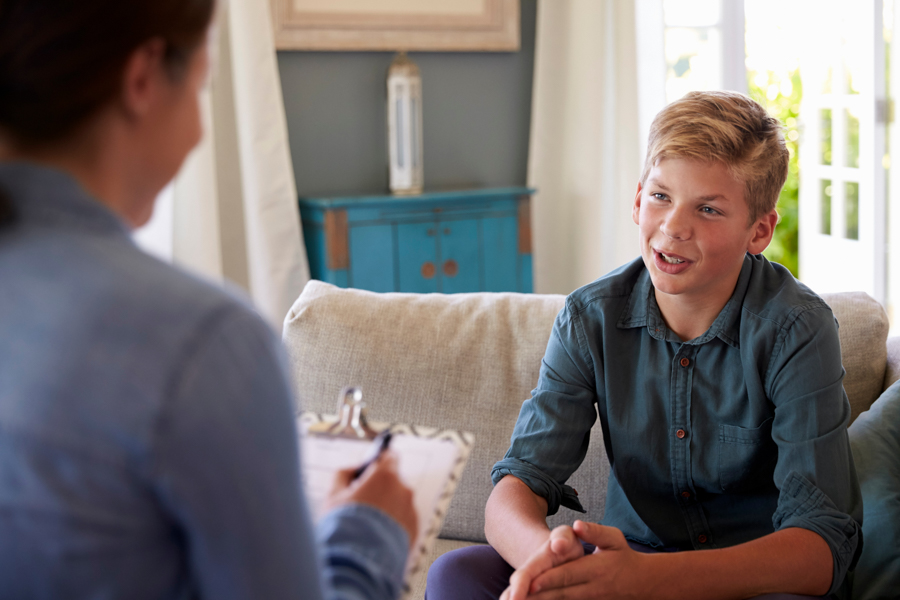 At Paradigm Treatment, we believe that the best and most thorough treatment we can provide when addressing teenagers and divorce is to approach teens one at a time. We design their treatment to be as individualized as possible, geared toward their specific needs, experiences, and preferences.
When treating teens of divorcees, our therapists maintain a special awareness of our young residents' needs. While therapists are leading teens through their comprehensive treatment plan and therapy sessions, they also help to engage teens to address the effects that the separation has had on their lives.
Throughout therapy, we try to help teens develop an awareness of their behaviors, feelings, thought patterns, and belief systems. As we lead teens to evaluate themselves on these different levels, we help them make connections between their behaviors and their causes, as well as belief systems that may contribute to both of these.
Many times, teens may not even be aware of how their parents' divorce has created certain beliefs in them, or what effects it has had. By helping teens to uncover these issues, we're not only helping them to address the main issue they're struggling with (be it substance abuse or a mental health issue) but also, to address their underlying behaviors.
Paradigm's Resources for Parents and Family Members

We provide a number of different resources and support systems for parents while their teenager is undergoing treatment. These resources include:

Individual parenting sessions
Parent Effectiveness training
Frequent updates on their teen's progress and experience
Free unlimited support and counseling following treatment

we make every effort to make these parenting sessions as effective and comfortable as possible, while also trying to help contribute toward an overall consistent, healthy environment, for the teen.
Family Therapy: Healing for the Whole Family

One of the most powerful resources for growth is within our family therapy sessions, where our therapists help to build a bridge of communication between the teen and their parents. Through the work that the teen has been doing with therapists individually, the teenager becomes much more open with parents in their sessions together. This allows significant growth and communication to take place in these sessions, as therapists provide a safe place for the teen and the parents to be heard.

Family therapy provides a safe space for families to discuss their feelings, resolve conflict, and simply talk. Despite the occurrence of a divorce, it is still important for families to work on each relationship within the family unit. Open communication is key to addressing conflict and securing an emotionally safe future for each individual. It's necessary to make sure the teen and their family feel involved in the healing process, working to create a healing environment and spend quality time addressing their issues together.

This type of therapy can serve as a powerful foundation from which a teen can recover, mothers and fathers can feel empowered to support their teen, and everyone can put forth an effort toward a common goal. We understand that the stresses and conflicts that can be present are real and that it can be difficult to co-parent after a divorce. In this regard, we strive to be an objective, helpful third party, working toward your teen's best interests, and supporting both parents in every way possible.
Contact Us Today
Here at Paradigm, we understand the major impact a divorce can have on families. We know how parental separation can affect the life of a child. Our compassionate team understands the intricacies of the relationship between teenagers and divorce. We are also aware of the challenges presented by co-parenting. For all of these reasons, we offer treatment and counseling for adolescents and adults facing the challenges of a separation.
Reach out to our facility today to learn how we can help your kids overcome the emotional and mental health challenges they're facing as a result of divorce. We are here to help your family find healing and hope.
Frequently Asked Questions
At what age is a child most affected by divorce?

The age at which a child is affected by divorce can vary. Some kids feel the impact early on. Others may not show signs of being affected until their teenage years.
How do I talk to my kids about the divorce?

Telling your children about the decision you and your spouse have made is not easy. But, it is important to be clear with them, even if you choose to avoid talking about all the reasons behind the separation. Your child will need to hear the truth from you. You'll also want to avoid putting all the blame on you or your spouse. You and your partner should present a united front, if possible.
How can I give my child a safe space to talk about the changes in our family?

Make sure your kids understand that you and your partner are there for them. As co-parents, you can make sure your child or children know that they can come to you two whenever they need to talk about what their feeling. This is a big life change for them and they should know that they don't have to go through it alone.

Also, keep in mind that your child may or may not feel comfortable talking to you or your spouse. But, as a caring mother or father, you can still provide your child with a safe space to talk about their feelings. You can make sure your child has therapy sessions or speaks with a trustworthy relative when necessary.
---
Other Youth Mental Health Topics You May Find Helpful…
With nearly half of marriages ending in divorce, many kids and teens deal with the reality of their parents dissolving their marriages. The commonality of the experience doesn't necessarily make […]