In our intensive residential mental health treatment programs at Paradigm Treatment in Austin, TX our expert clinicians and therapists treat adolescents ages 13-17 who suffer from a wide variety of moderate to severe mental health issues. We are proud to be accredited by The Joint Commission which requires treatment programs and services to meet rigorous healthcare performance standards. Our young residents stay in our comfortable residential settings while receiving effective treatment.
Our residential mental health treatment programs in Austin address underlying core issues and root causes behind the mental health issues. Evidence-based treatment based on empowering teens and their families is our cornerstone to help our clients achieve sustainable recovery on their journey to healing. We also use experiential therapies and medication managed treatment strategies to help our clients heal. At Paradigm Treatment, we follow the latest research conducted by peer-reviewed psychologists, psychiatrists, educators and other experts who have found that a strengths-based approach yields dramatically better long-term results.
Meaningful treatment requires a commitment to collaboration, and we prioritize the individual while asking our clients to be full partners in their own treatment plan. Upon admission, adolescents complete a full battery of diagnostic testing before treatment as we believe this is crucial to achieving sustainable recovery. Our therapists guide and support each young person and their family throughout treatment to ensure each clients reaches his, her, or their full potential and maintains long-lasting recovery.
If your child is experiencing moderate to severe mental health issues that impact their relationships, academic performance, self-esteem, and quality of life, now is the best time to seek professional help here at Paradigm Treatment in Austin's beautiful Hill Country where we offer hope and healing.
How Do I Know If Residential Mental Health Treatment is Appropriate?
First and foremost, safety has become an issue and your loved one may represent a danger to themself or others


Basic treatment has been ineffective
Daily life or development is adversely impacted
Being at home is not conducive to healing and could also be adversely affecting family members
Multiple concurring conditions need a different approach
What Mental Health Conditions Do We Treat at Paradigm Austin?
At Paradigm Austin, we treat issues that include but are not limited to:
ADHD or Attention-Deficit Hyperactivity Disorder is a complex condition which varys in severity and impacts emotional regulation and self-control. Signs and symptoms of ADHD can include a lack of focus or sometimes a hyper-focus. Teens and young adults with ADHD often have academic difficulties. ADHD can be managed with individual and family therapy ,life skills development, and, when appropriate, medication. Without treatment, ADHD can have serious consequences on learning and mental health in the long run. At Paradigm Treatment in Austin,TX, we provide patients with "tools" to manage their ADHD and build healthy habits around organization, time management, and emotional regulation.


Anxiety Disorders occurs frequently in teenagers and young adults and often manifest in persistent and severe worries, irritability, agitation, or restlessness, feelings of doom, danger, or irrational fears as well as difficulty concentrating. Anxiety disorders include Generalized Anxiety Disorder, Obsessive Compulsive Disorder( OCD), PTSD and Trauma, Panic Disorder, and Social Anxiety Disorder. At Paradigm, we use multiple modalities to treat anxiety disorders based upon the severity and the case and cause. Interventions using therapies, medications and/or lifestyle modifications can successfully treat anxiety disorders


Personality Disorders, which often first appear in adolescence, present many obstacles to social, emotional, and developmental well-being. These disorders cause destructive patterns of thinking and behaviors and include Obsessive-Compulsive Personality Disorder (OCD), Narcissistic Personality Disorder, Borderline Personality Disorder, Avoidant Personality Disorder, Histrionic Personality Disorder, Paranoid, Schizoid, and other disorders. At Paradigm Austin, our clinicians perform an in-dept assessment to identify the disorder each patient may suffer from. Using our evidence-based approach we build a unique plan to teach them healthy coping, emotional regulation, and life skills while helping them embrace healthy habits for daily living.


PTSD and Trauma are serious mental health conditions often triggered by a traumatic event such as physical assault, childhood physical or emotional abuse, sexual violence, being threatened with a weapon, being involved in or witnessing an accident, shooting, or bombing, or experiencing a natural disaster. Symptoms can develop within one month or many years later. PTSD symptoms may include intrusive memories, avoidance, negative changes in cognition, thinking and mood or alterations in arousal and reactivity.


Depression is common in teens and young adults and can develop from a variety of sources including changes and abnormalities in brain chemistry or past trauma. The most common risk factors are a family history of depression and stress. During the emotional rollercoaster of adolescence, depression can create difficulties with relationships, work and school. Severe cases can lead to self-harm, suicidal ideation and attempts. We treat depression with a combination of therapies, medications, lifestyle therapies such as exercise, meditation, and diet, along with experiential modalities such as art, music, or animal-assisted therapy.


Bipolar Disorder which used to be referred to as manic depressive disorder, alternates between manic and depressive episodes. It involves shifts in mood, energy and functional ability. This disorder requires lifelong management but at Paradigm Austin, we help treat depression with a variety of evidence-based therapies to help teens learn coping strategies and psychoeducation to equip patients and their families with facts.


The Grief and Loss that a teen or young adult may experience when a loved one dies or a traumatic event occurs, can cause them to get stuck emotionally, or to shut down and withdraw from their daily lives. They may suffer from anger, guilt, anxiety, nightmares, depression, apathy, and sometimes substance abuse, which they use to self-medicate their pain. At Paradigm in Austin, TX, we help our patients learn to process their grief on the deepest level and in healthy introspective ways.


Substance Abuse commonly occurs alongside many mental health issues. At Paradigm Austin, we can address co-occurring substance use only if the client is medically stable and not requiring detoxification. Generally, we do not treat "hard core" addiction in any of its manifestations but rather, treat mild to moderate substance use disorder as a symptom of a deeper mental health issue. With the help of our skilled and experienced therapists, we help our clients identify their underlying stressors, triggers, behaviors, and faulty belief systems that underly their substance abuse. Helping our Paradigm Austin clients understand these dynamics is fundamental to their success and lasting recovery.


Suicidal Ideation occurs when thoughts or a preoccupation with the idea of suicide are present. Parents feel terrified and overwhelmed when they fear their adolescent may try to harm themselves or has suicidal thoughts. The highest prevalence of suicide is during the ages of 15-24. Suicidal Ideation is often a symptom of another mental health diagnosis which puts teens and young people at increased risk especially those with a history of depression, bipolar disorder, or substance use. Other increased risk factors include physical, emotional, or sexual abuse, PTSD, or other mood or anxiety disorders. Suicidal ideation can vary in intensity, duration, and character and can happen without a clear warning. But with a combination of medication and psychotherapy, our clinicians and therapists can help young adults and teens process their emotions and identify their triggers in order to overcome suicidal thoughts and to deal with their underlying pain.


Dual Diagnoses are when a patient has a mental health condition and an overlapping substance Use Disorder. If one is left untreated, the other can be dangerous or even fatal. It is common for those suffering from substance abuse to have a co-occurring mental health disorder. At Paradigm Austin, we diagnose and treat dual diagnoses we create a specific plan for each individual to ensure each patient gets the help and care they need for each specific diagnosis.
FAQ Paradigm Austin
Can we visit the Austin, Texas program before committing?
We welcome teens, young adults and families who are interested in Paradigm Mental Health Treatment in Austin, TX as a potential place to heal from their mental health issues. We provide the opportunity to visit, explore our beautiful new Hill Country treatment facility and to meet with members of our caring and experienced treatment teams. We also recommend visiting any other mental health rehab treatment program you may be considering before committing.
How many teens are in your Austin, TX treatment program?
In order to enhance effectiveness, our Austin, TX treatment program is small. We limit the number of residents in treatment to 16 at any given time, so we are able to provide individualized care to every patient. Keeping our group in a smaller range results in better results for those we serve. Our high staff to client ratio, about to 1:4, ensures each patient receives the support and attention they need to find long-lasting healing and recovery.
How long is your adolescent treatment program in Austin?
Paradigm Treatment's residential program is 30-60 days. Some families decide to stay with us up to 45, based on clinical recommendations from the treatment team. As a direct result of the intensity of our program, we believe 30 days is sufficient time for most young people to achieve meaningful, sustainable changes. Programs that require a commitment of longer than thirty days prior to diagnostic testing should be examined carefully. It is our belief that quality treatment should be both intensive and brief. This allows adolescents and their family members to get back to their lives as quickly as is appropriate. Families can make an informed decision with the treatment team if and when they wish to extend their stay, when it is in alignment with the treatment team's clinical recommendation.
Who will be providing treatment?
A team of experienced and compassionate clinicians and therapists at Paradigm Treatment in Austin are committed to identifying and treating a wide variety of mental health disorders and will be treating your teen. They create individualized treatment plans and ask our clients to become full partners in their own treatment plan.
Who else will be in treatment with my child?
Many teen mental health treatment programs don't have stringent admission criteria and consequently teens are exposed to peers who may influence them in destructive behaviors. We reject all applicants who are sexual perpetrators, fire starters, those who are violent, gang-affiliated youth, or anyone having a history of behavior who could put our residents and staff at risk. We are committed to a rigorous screening process at Paradigm Teen Residential Treatment in Austin, TX. Ensuring our environment is both physically and emotionally safe for everyone at Paradigm Austin is our top priority.
How often will my child receive individual therapy?
We offer 3-4 one-on-one individual therapy sessions per week in addition to weekly group and family therapy. When a teen mental health treatment program offers individual sessions only one or two times per week, treatment opportunities can be overlooked.
How will attending treatment impact school for my teen?
It is not uncommon for teens who are suffering from mental health disorders or addictions to have difficulties in school. When admitted to Paradigm Austin, your child's primary therapist and one of our on-site teachers will create an plan to help each client achieve their academic goals. The plans are coordinated with each participant's school at home for academic continuity.
What types of diagnostic testing and assessments area conducted at the Austin, TX facility?
New clients complete a full range of diagnostic testing including psychiatric evaluation, psychological assessment, educational, and nutritional assessments, and a thorough medical evaluation, all of which are essential before treatment begins. A treatment plan can be no stronger than the assessments upon which it is based and so we place a great deal of emphasis on our assessments.
Will the rest of the family be involved in treatment?
Family involvement is essential for effective treatment. We understand that family members may struggle to participate in aspects of treatment due to work, geographic location, or additional factors. This is why we provide services including telehealth, in-person sessions, as well as parent coaching, education, effectiveness training, and sibling support groups. Our highly-trained and caring therapists support the whole family to resolve a wide variety of conflicts so long-term recovery can be sustainable for each patient.
Are treatment programs for teens different than adult programs?
A different approach, using different skills, and a different knowledge base is required for the treatment for adolescents as opposed to those needed to treat adults. Our programs are designed to address each adolescent's individual and specific emotional, physical, spiritual, family, social and educational needs. Many other treatment programs split their attention between adults and youth. We exclusively treat adolescents at Paradigm Treatment in Austin, TX.
Do you provide any services other than residential mental health treatment?
Our primary focus is residential treatment for adolescents 13-17. We also offer mental health and life skills teletherapy. We do not move patients into an outpatient program or to extended care facilities. Our primary goal is to provide effective 30-60-day residential treatment and to empower our clients to achieve long-term recovery and healing.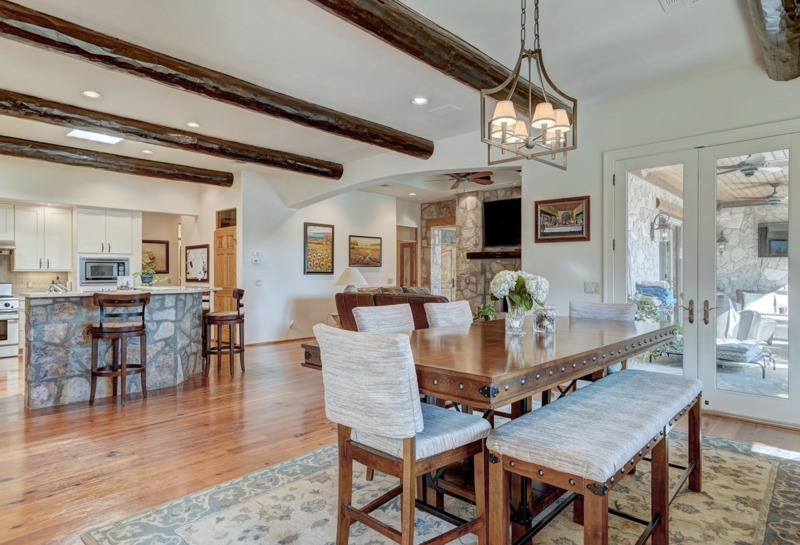 What should my child bring to treatment?
Each resident will need comfortable clothing to last between one week and ten days. A light jacket may be needed for some evenings. We provide towels, pillows, and blankets but you may prefer to bring your own. Some residents prefer to bring specific personal grooming supplies. You are welcome to bring an item that may bring personal comfort, like photos or a stuffed animal. $100 in spending cash is also recommended. Please do not bring valuable items that may be irreplaceable. In an effort to keep the program physically, and emotionally, safe for everyone, we do not allow the following items: weapons, cell phones, cameras of any type (video, digital, disposable, etc.), non-prescription drugs (excluding supplements), alcohol, any smoking, vaping or nicotine products or audible music players (personal players with headphones or ear buds are acceptable).
Will I be able to visit my child during treatment at the Austin, TX facility?
Frequent and supportive communication is vital to make family bonds stronger while in treatment. Family visitation is every Saturday. If you would like to make arrangements to visit your adolescent on a different day, we can accommodate this.
My child is completely out of control. If I am looking at wilderness programs, should I consider Paradigm?
With any mental health treatment program, finding a good, evidence-based fit is vital for effective treatment and sustainable recovery. Many wilderness and experiential programs offer clinical and behavioral services but it also important to evaluate their treatment processes. Are there academic services to help clients continue academic progress? Some wilderness and experiential programs do not offer these services, but at Paradigm Treatment in Austin, we provide these and more.
We are already working with a therapist. Can he/she be involved in treatment?
We are willing to collaborate with other therapists or treatment professionals with whom your teen may already be engaged. Those who have a vested interest in your teen, such as teachers, physicians, mentors, coaches, or therapists, may be involved with the consent of each teen and parent. We welcome these collaborations which often allow us to reach treatment goals quicker and ensure a smoother transition after treatment.
Do you accept insurance?
We can work with most insurance companies. We can also help verify your benefits and secure pre-authorization for treatment. For more information, complete this form.
What happens when my child returns home?
When you enter Paradigm Teen Residential Treatment at Austin, TX, we begin planning your return home and your life beyond treatment. This is the center point of all we do at Paradigm. Each aftercare plan is individualized and based on the patient's unique needs in order to return home and lead a healthy life in recovery.
Where can I get an answer to a question that I don't see addressed here?
Our Paradigm Austin team is always available to answer your questions about adolescent residential mental health treatment and to provide support to families. If you would like more information, please use our contact form or call us at (855) 921-4973.