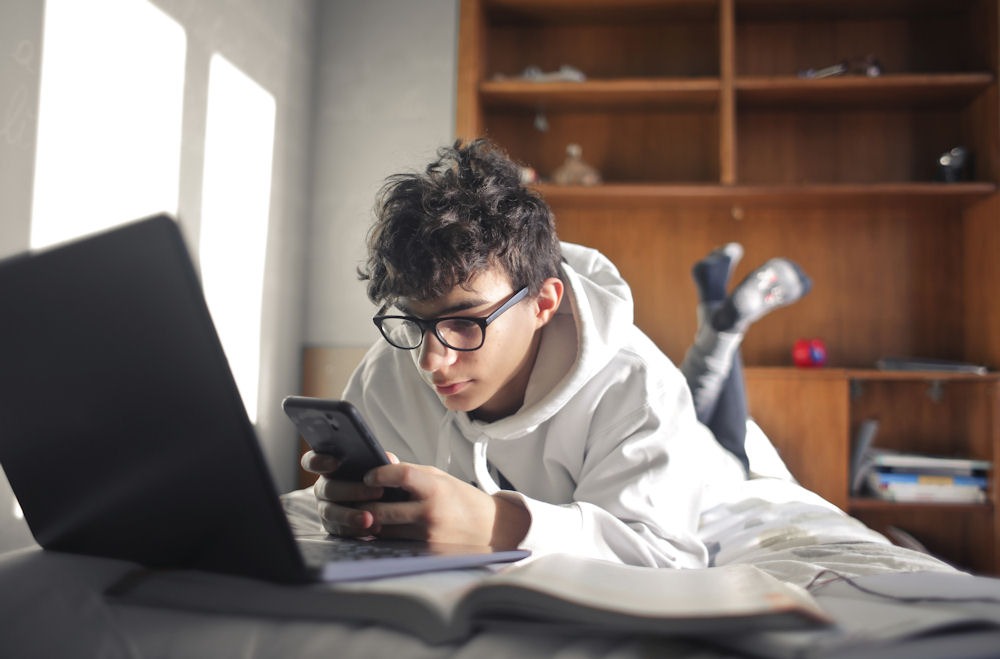 In today's digital age, access to explicit content has become increasingly easy for teenagers and young adults. With just a few clicks, they can find themselves immersed in a world of pornography. While curiosity about sex is a normal part of adolescence, the widespread availability of explicit material has raised concerns among parents, educators, and mental health professionals.
In this blog, we will take a look at the correlation between teens and pornography, why viewing pornography as an adolescent can be problematic, and what to do if you find your teen or young adult watching pornography.
Why Is Porn Problematic For Teens?
Thanks to smartphones and the ease at which we can all access the internet, the ability to access pornographic material has never been easier. While porn can be a way to explore a person's sexuality and even be used to learn more about sex, it is important to remember that what is depicted in porn isn't indicative of "real world" sexual relationships. While many adults are able to differentiate between "real world" sex and what is shown in pornography, teens and young adults may not be able to properly identify the difference.
For example, pornography often portrays idealized and exaggerated versions of sexual experiences, bodies, and relationships. This can create unrealistic expectations and not only distort a teenager's understanding of healthy sexual relationships, but it can also lead to dissatisfaction and disappointment when real-life experiences do not measure up to the fantasies depicted in pornography.
Additionally, many pornographic videos may depict situations where consent is absent or unclear. Since consent is a crucial aspect of healthy sexual relationships, the lack of clear consent in porn can confuse teenagers and blur the lines between fantasy and reality, potentially leading to misunderstandings and harmful behaviors.
Finally, pornography often only focuses on the physical pleasure of sex and neglects the emotional intimacy and connection that is involved in real-world sexual relationships. This can reinforce the idea that sex is purely about physical gratification and devoid of emotional involvement. Teens may struggle to develop healthy emotional connections in their own relationships, leading to difficulties in forming meaningful and satisfying connections with others.
How Does Porn Impact The Mind of a Teen or Young Adult?
In addition to porn distorting how real-world physical relationships work, pornographic content can also negatively impact teens and young adults mentally.
For the brain of a developing adolescent, regular exposure to explicit content can have profound effects on their thoughts, beliefs, and behaviors and can even lead to the development of various mental health and addiction issues such as:
Body Image Issues

Pornography frequently presents highly idealized and often unrealistic body types. Constant exposure to these images can negatively impact a teenager's body image, leading to feelings of inadequacy, self-consciousness, and low self-esteem. This can contribute to the development of eating disorders and other body dysmorphic issues.
Performance Anxiety

Regular exposure to pornography can lead to performance anxiety once a teen becomes sexually active due to unrealistic expectations they have internalized. Long-term this can interfere with the development of healthy sexual relationships and hinder their ability to form meaningful connections with others.
Addiction

Frequent consumption of pornography can lead to compulsive behaviors and addiction. The brain's reward system becomes activated during sexual arousal, reinforcing the desire for more explicit content. Over time, individuals may develop a tolerance and seek out more extreme or violent forms of pornography to achieve the same level of arousal. This escalation can further distort their perception of healthy sexual relationships and increase the risk of engaging in harmful behaviors.
How Can I Talk To My Child About Porn?
Whether you suspect that your teen is watching porn and want to have a conversation with them about what they are watching, or you want to get ahead of the game and talk to your child before they find themselves discovering pornography for the first time, knowing what to say to them is just as important as knowing what not to say.
Below are some things you can do when it comes time to have "the talk" with your child about pornography:
Be prepared – Know not just what you want to say but also how you want to say it. It's important to remember that when having the talk with your child not to be judgemental or make them feel bad.
Don't wait too long – It is important to have open and honest conversations about sex and pornography early on, ideally before your child encounters explicit content.
Teach them – In order to have a healthy relationship with porn, it's important that your child understands the difference between the fantasy they see in porn and what a real-life sexual relationship looks like. You not only want to make sure that your child understands what pornography is and its potential impact, but also talk to them about healthy relationships, consent, and the importance of emotional connection.
Questions are good – Let them know that it is ok that if they have any questions they can come ask you about them. Additionally, you can ask questions as well to advance the conversation and get a better picture of what their views are when it comes to things like sex, porn, and relationships.
What To Do When You Catch Your Teen Watching Porn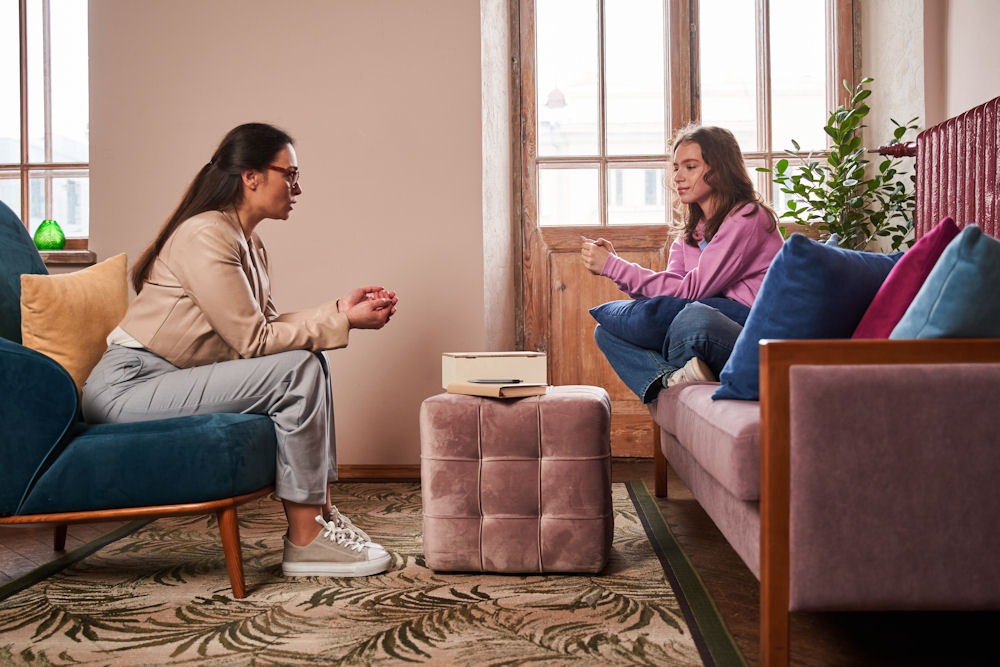 Catching your child watching pornography can be jarring no matter how open-minded you may consider yourself to be. Should you find yourself walking in on your teen watching pornography, either metaphorically or literally, the first thing to do is to stay calm. Beyond staying calm, below are some things that you can do should you find yourself catching your teen watching porn:
Initiate the conversation – Use the fact that you caught your child as an opportunity to start an open and honest dialogue about pornography, healthy relationships, and sexual education. You should ask open-ended questions in order to understand your teen's perspective and address any misconceptions they may have.
Be open and honest – While it is ok to express any concerns that you may have it's also important to remember that curiosity is a part of life, especially for teens and adolescents. When expressing any concerns you may have, make sure to do so in a non-judgmental way.
Offer guidance and support – It's important to offer accurate information about the potential impact of pornography on the emotional and sexual development of your child. Help them develop strategies to navigate the digital landscape safely and encourage healthy alternatives for exploring sexuality, such as age-appropriate books or conversations with trusted adults.
Listen to your teen – The only way your teen is going to feel comfortable coming to you to talk is if they know that you will listen. Give your teen the opportunity to express themselves without interruption. Listen attentively and validate their feelings and experiences. It's important to create a safe space where they feel comfortable sharing their thoughts and concerns without fear of judgment or punishment.
Set clear and easy-to-follow rules – If you are concerned about the type of material your child is consuming on the internet, whether it be pornographic or anything else, you may want to consider setting up parental controls on the computers or tablets in the house. Should you choose this route, make sure to talk to your child about this. It's important to make sure that they know that while they are not necessarily in trouble, you don't want them viewing explicit material in your house.
Paradigm Treatment Can Help Address Addiction Issues with Teens and Pornography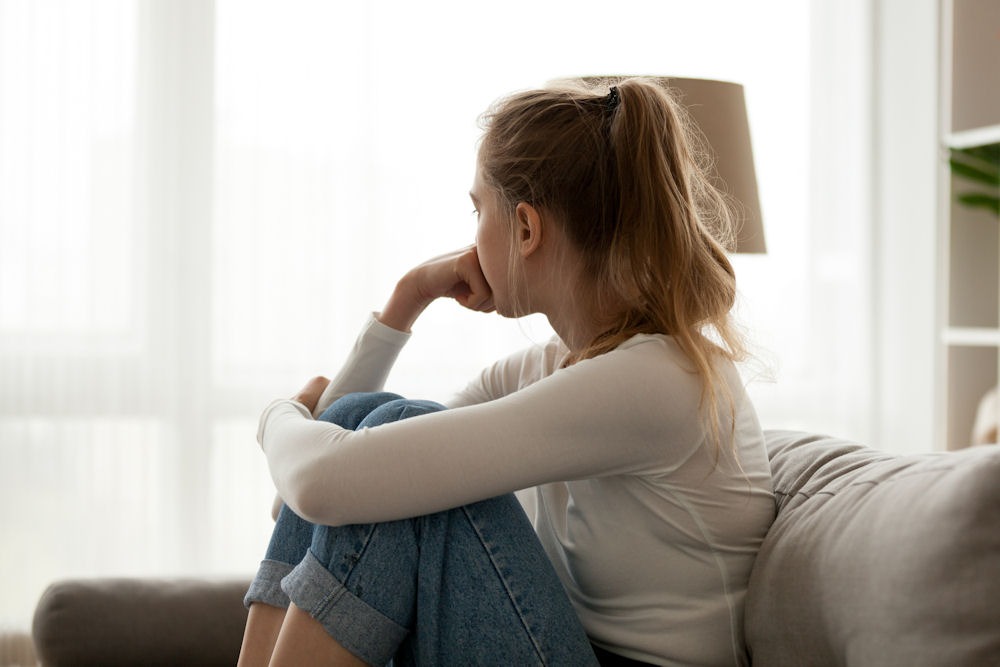 While pornography has become increasingly accessible to teens and young adults, it is important to recognize its potential negative impact. From distorted views of healthy relationships to addiction and unrealistic expectations, pornography can have profound effects on the minds of young individuals.
At Paradigm Treatment, we understand the negative effects that pornography can have on the development of teens and young adults, especially when it comes to mental health and addiction. If your child is suffering from addiction or mental health struggles of any kind, whether it's related to watching pornography or not, we want to help.
We specialize in treating teens and young adults between the ages of 12 and 26 with mental health and substance abuse issues. We specialize in treating many mental health conditions including:
Anxiety Disorders
Personality Disorders
Post-Traumatic Stress Disorder (PTSD)
Depression
Bipolar Disorder
Eating Disorders
Attention-Deficit Hyperactivity Disorder
Mood Disorders
Suicidal Ideation
In addition to our medical and clinical teams, we also offer academic help for those facing academic issues as a result of their mental health struggles.
For more information about our programs, or to get your child started with mental health and addiction treatment, contact us today.